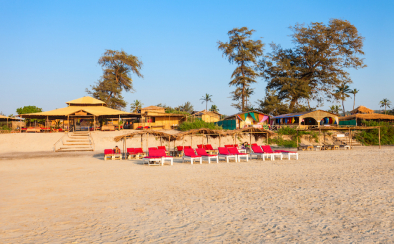 Goa Round the Year Fun
Posted by:
Jay
Goa is a Land of contrasting contrasts, tangible and intangible heritage, diverse humans and natural wonders. No other place in the world lets you discover so many worlds in a short duration of time. Flanked by the Arabian sea on the West and imposing Sahyadri mountains on the East. Goan landscape rises from the sea-level to 1,022 metres East to West. Several rivers flow across the state and add to its natural beauty.
Goa is a state located in Western India with coastlines stretching along the Arabian Sea. The state was a Portuguese Colony prior to 1961, one can see the impression of Portuguese Architecture even today in the preserved 17th century truces and the tropical plantation. Goa is known for its beaches starting from northern part of the state with Ashwem, Morjim and to the south towards Benalium and Palolem.
In 1510, the Portuguese defeated the ruling Bijapur Sultan Yusuf Shahwith the help of a local ally, Timayya. They proceeded to set up a permanent settlement in Velha Goa. This marked the beginning of the Portuguese Colonial rule in Goa and that lasted for four and a half centuries until 1961. In the year 1843 the Portuguese moved their capital from Velha Goa to Panaji. By Mid 18th Century, the Portuguese Goa had expanded to most of the present day state limits.
India gained independence from the British in the year 1947, India requested that Portuguese territories on the Indian subcontinent be ceded to India, Portugal refused to negotiate. In December 1961, Indian army invaded with operation Vijay resulting in the annexation go Goa, Daman and Diu into the Indian Union.
In earlier days, tourism was focussed on the coastal areas of Goa with decreased tourist activity inland., from the year 2012, Goa has constantly seen year on year growth in Domestic as well as Foreign tourist inflows. With the global economy slowdown, the tourism to Goa took a hit in the year 2019 and Goa saw a significant decrease in the number of tourists. Peak tourist season to Goa is considered to be from October to March every year and the stakeholders are hopeful that 2020 will be a great year with increase in the number of tourists.
Goa was a destination of choice for several tourists to come and relax, soak some sun, party visit historical churches / temples and so on. Goa also offers attractive water sports at several beaches. In addition to the Indian tourists, Goa attracts tourists from across the world, especially from Great Britain and Russia. Several charter companies carry flight loads of tourist from parts of Europe and Russia to Goa and average stay of these tourist who arrive by charter flights is a week or multiple of 7 nights.
In addition to the beaches, water sports, goa also has spectacular churches and cathedrals, some of the popular ones are Bom Jesus Basilica, Se Cathedral, Church of St. Francis Assisi, Church of our lady of Immaculate Conception and many more.

Goa also has some attractive temples with a charm Mangeshi Temple and Shantadurga are the most popular from the several temples.
The Old Portuguese homes go Goa are a delight and they are spread across several parts of Goa some of them have been converted to Home Stays, Boutique Hotels OR museums and some are preserved close to its original glory. Some of the occupants also entertain tourists to visit the homes and also provide local lunch. There are some interesting Heritage walks which are curated to specific interest groups and are very popular.
There are several spice plantations across parts of Goa which give tourists a insight to how the spices are grown and also give them the experience of Fresh produce of the farms and their flavours.
Goa has also become a very popular wedding destination amongst Indians and a select foreign clients, couples choose from large Luxury villas, boutique hotels, standard hotels to Luxury hotels for destination weddings.

Goa also offers a vast options for food lovers, may the traveller be vegetarian Or Non Vegetarian, Goa has restaurants from standard restaurants offering regular food to Luxury restaurants offering curated fine dining experiences.
Once upon a time Goa was a October to March destination and has now become a round the year destination for the discerning traveller
Goa also hosts a series of festivals on Art, Film, Biking, Music and photography which are held at different times of the year.