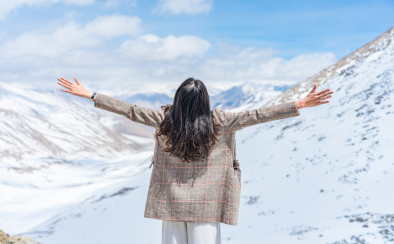 Winter in Ladakh
Posted by:
Jay
Explore the unexplored winter in Ladakh between October to March. This is the time where the high altitude dry desert changes to a land with frozen lakes and snow capped mountains. This makes Winter in Ladakh a once in a lifetime experience.
Ladakh – is the 'Land of high passes', is a extremely popular travel destination for International Traveller's as well as Indians Traveller's. Peak travel seasons to Ladakh is from May to September End OR October. During summer season one can enjoy the road journey from Chandigarh to Leh via Manali and Sarchu OR Srinagar to Leh via Kargil. We recommend to explore a beauty of Ladakh during winters. From October to March one can only reach by Air to Ladakh as the mountain passes are closed during these days.
Thanks to the growing emphasis on authentic and cultural experiences and Indian clients also looking at exploring different parts of the country in addition to various countries, beauty of Ladakh in the winter's still remains vastly unexplored.

A few advantages of travelling in Ladakh in Winter :
- Best Value for Money
- Best for Photography
- Best time to see the High Altitude wildlife
- Experience the True Ladakhi Hospitality
- Explore the Chadar Trek : Walk on the Frozen Zanskar River
As the weather is unpredictable in Ladakh, there is a possibility that one may need to alter the plans due to last minute changes in the weather conditions. Locals are always friendly to assist to make the last minute changes to the program to ensure you explore the maximum during your trip.
There are few hotels which are operational during the winter season and offer the clients a necessary comfort required to face the harsh winter.
The place has so much to offer even during winter, local people go out of Leh to escape the cold but outsiders came with so much zeal to do the unique trek in Leh.
The famous zanskar valley lies to the south west of Leh, surrounded by the Himalayan and Zanskar ranges, which is the most isolated of all the trans-Himalayan valleys. Zanskar comprises of two main valleys of Stod (Doda chu) and Lungnak (Tsarab Chu), which coverage below Padum. Since the passes will remain closed in winter, the only alternative route to Zanskar is frozen Zanskar River, which has become a popular destination for tourist, famously known as Chadar trek. It nearly takes a week by walk on frozen river to reach Leh.
You can also do snow leopard trek in winter. Not only that you can also see a glimpse of Ladakhi's tradition through various monastic festivals held in winter. When it's getting colder in Ladakh, people here gear up for winter sports namely skating and ice hockey which has gained huge popularities now a day. With the good conditions and the availability of frozen streams and lakes in the region, the enthusiasm for the sport is growing more and more each year.
Travel Tips to Visit Ladakh in Winter
- Acclamatize yourself once you land in Leh
- -Drink plenty of water to avoid getting dehydrated
- Carry sufficient heavy winter / woolen clothes
- Carry Body Moisturizer, sunscreen lotion, sunglasses, personal medicines
- Carry adequate cash, Ladakh does have few ATM's, however at times they are out of services due to connectivity issues and cards are not accepted at all places